Now the week is over! Time to take a short break, put your legs up just for a bit before you wink an eye and it's Monday again.
Oh, the rush of Mondays! But careful now, because the scrubbing of Saturday and the cooking of Sunday can leave you engrossed that you overlook the smaller things like that lunch box!
Oh, you never forget?! Wow! Supermom! Well, even a supermom hates to struggle with stubborn stains. So how can we avoid stubborn stains and a really bad stench? You might want to try these tips.
First, make sure you get a lunch bag appropriate for your child's age, one he or she can easily handle. Buy it because it's fancy but also age-friendly. Lunchtime should be a fun time, not puzzle time.
Make sure you get rid of crumbs and clean your lunch bag every day to disinfect germs and bacteria. You know you don't want rodents feasting in there- yuck!
Wipe your lunchbox with warm soapy water to get rid of stains immediately.
When you're done, slice a small lemon fruit, sprinkle into the bag and let it sit for a few minutes while you clean up, then wipe it out and leave open to air dry. This routine will keep your bag smelling fresh always and keep germs away.
Let go of containers with broken lids. They'll make all this work futile!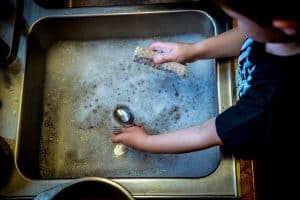 Finally, You can get your kids to clean up their lunch bags, with your supervision of course. It will be a fun activity and they'll be well engaged over the weekend! You can make it a Saturday tradition they'll look forward to!