To discipline means to teach or correct. Correcting a child means to give a child the needed tools he can use to learn better behaviour. It helps children understand that their choices, actions and behaviour have consequences and the choices made determine the consequences gotten. To discipline means to train. It has to do with teaching and learning. An effectively disciplined child is a child who has learnt to control behaviour, and not for fear of punishment.
Punishment, on the other hand, refers to the method or act of stopping a child from doing what you do not want by means of a painful or unpleasant method. To punish is to consciously inflict pain. Punishment tells a child that she is bad. It focuses on past behaviour and does not tell the child what to do instead.
Often times, discipline is seen to be synonymous with punishment, but from the above, we can deduce that:
Discipline is used to teach and guide; making the child take on responsibility for his actions. Punishment acts as a form of control, shifting the responsibility of an action from the child to the person punishing.
Discipline creates dialogue and communication as an acceptable method of resolving a conflict. Punishment validates violence and intimidation as an acceptable method of resolving a conflict.
Discipline makes a child understand that he should do right even when the adult is not present. Punishment makes a child do right only when the adult is present.
Discipline builds a child's self-esteem. Punishment tears down the child's self-esteem.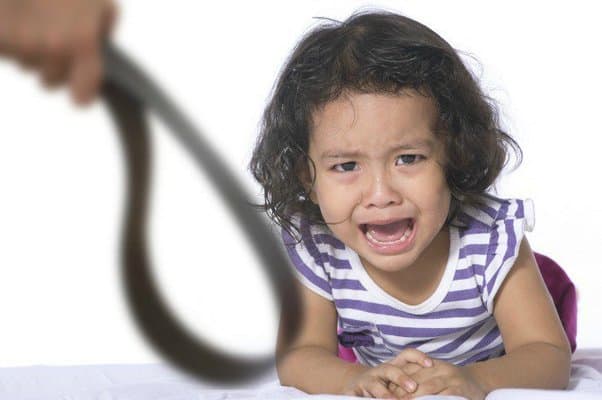 As parents, we often are faced with pressures and resort to spanking/flogging as the last and best option. I often hear parents give reasons for flogging saying:
This is all she hears.
I gave birth to her and so can handle her the way I deem fit.
He asked for it.
That was how I was raised and it helped me.
When you spare the rod, you spoil the child.
Forgetting that often times, such measures are resorted to due to the following reasons:
Relationship pressures.
Anger
They do not know what to do.
It is easier and quicker.
Neurologists argue that the brain comprises of three regions: The Mammalian brain (for emotions), the Reptilian brain (for survival) and the Human brain (for thinking).
From the above, we can deduce that discipline impacts the thinking brain, while punishment prompts the emotional brain.
Let me break it down:
Punishment instills fear and frequent fear is not good for the brain.
Fear is born in the emotional brain and often times does not go through the thinking brain. This is because, when one is in danger, he can't think.
The Stress hormone is released to equip the body to fight back or get away quickly and called the flight mechanism.
Parents should understand that punishment does not make a child think about what to do right. It is also important to note that it is not just punishment that can cause fear. The threat of punishment can also induce fear in kids.
What to Do:
Be a role model.
Use positive disciplinary measures.
Be Consistent.
Ensure the disciplinary measure is age appropriate.
Appropriate disciplinary measures coming soon…